Wow - it's Christmas at Easter! Many many thanks go out to my wonderful Secret Pal for the fantastic package that I received yesterday.

Within the box of surprises, everything was wrapped beautifully in red and white tissue paper - definately Christmas treat time! Firstly was a yummy tin of chocolate squares, and a wonderfully fragrant tin of mulled spices - we have plenty of red wine to put that to good use with!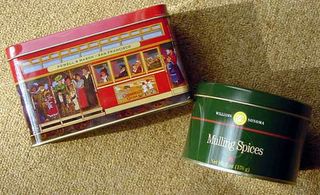 Mmmm - treats to eat and drink

Then the main treat - gorgeous bead-topped needles and matching beaded stitch markers, and (big fanfare here) 2 skeins of Lorna's Laces Shepherd Sport yarn in shade Tahoe! One of my most longed-for yarns! Secret Pal, you are a mind reader!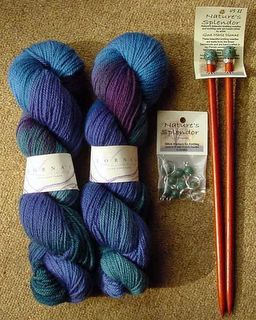 How lucky am I?!

I have been thoroughly spoiled rotten. How wonderful! ;-) Now I have the difficult task of deciding which project is worthy of such magnificent yarn. Maybe a second
Wavy Scarf
? Other suggestions would be gratefully received. :-)