It's been a beautiful sunny hot day, so today's post is a bit of a photo frenzy. :-)

First up we have an almost complete Beach Tank:


We have boob covers!

See how the pooling on the front has given me boob covers?! The eyelets are really in the centre although they don't look like it on this photo. It's knitted, seamed, and just needs the ends sewing in (hopefully tonight). Wow, I'll actually get to wear this soon, and it's taken me less than 2 weeks to make it - that has to be a record for me. ;-)

Next up is the slow progress on the crochet diagonal baby blanket; I'm on the straight rows now so it shouldn't be too long before I can start decreasing for the final corner:

A bit further on
I had a lovely surprise from the postie this morning, when I received not 1 but 2 knitting mags! The first was the latest June issue of Sandra, and I adore the cover top:

Love that cover top
I've found a supplier for the Lana Grossa "Presto" yarn (no there's none on ebay accepting Paypal!) and it's not too costly even though it's being sent from Germany. Hello credit card.. ;-)
There are a few decent projects inside too - a crochet top and cardigan I quite like:


More crochet projects

Also this top with offset patterning which looks like quite a quick project:


Offset diagonal eyelets

The second magazine was the Sandra Children's Special; again I love the cover cardigan:


Sandra Childrens Special June 2005

Then there's this boy's hooded cardigan which would work just as well for my girls:


Sporty and unisex
How can I resist this beautiful little top? I think it's worked in a 4-ply yarn so I'm going to try substituting something like Patons 4-ply Cotton which is a lovely yarn with a huge 330m per 100g for around £3:


How cute?!

Finally, due to the good weather, we have some gardening pics. I've been planting lots of seeds lately (with assistance from my 2 little helpers of course). We have surprise peas - surprise because one lot are regular peas and the other are sugarsnaps, but I can't remember which: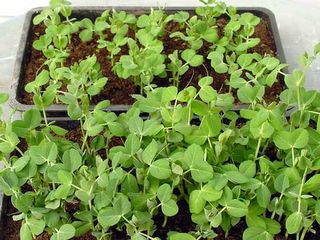 Which is which?
We also have a very few green bean plants as many didn't come up this year for some reason; I'll have to fight the slugs for these:


.. and green beans!

I couldn't resist showing you my top 3 favourite plants in my garden at the moment. I took the pics at 7pm this evening in glorious sunshine. Firstly my all-time favourite flowers, Aquilegia; these for some reason (and to my great delight) have grown massive this year:


My favourite
They're so tall I've had to stake them, and the leaves are as big as my hands!

In our front garden we have this beautiful Ceonothus bush which started out 3 or 4 years ago as a tiny stick and is now 8 feet across! Close up the flowers are almost luminous cornflower blue:


From a mere stick costing £1..

Finally we have a wonderful Deutzia bush in our back garden, which at this time of year from my kitchen window looks like a bush covered in wedding confetti:


Anyone getting married..?
BTW, thanks for all your comments for the library book wishlist. I'm working on it, and will post the final list here once it's done.
OK, that's more than enough for one post. Better get on with sewing those ends in. :-)